Pottery, textiles and figurines returned to Peru
Today the Dutch Ambassador for International Cultural Cooperation, Arjen Uijterlinde, presented a collection of privately owned archaeological objects to Ambassador Marisol Agüero of Peru. The object came to light when they were offered for sale at a Dutch auction house. The Dutch Information and Heritage Inspectorate investigated the items' origins, after which the owner voluntarily returned them, in view of their importance to Peru's cultural heritage.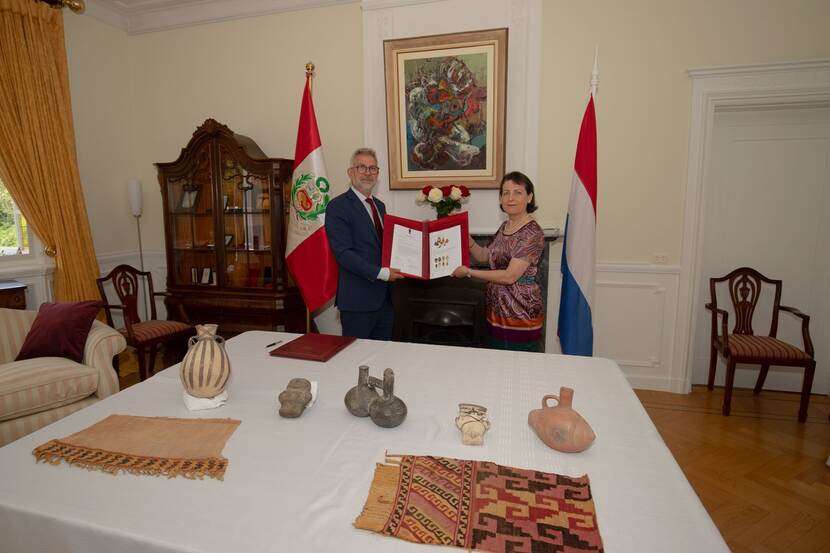 Items voluntarily returned by owner
In its request for the items' return, the Peruvian government noted that the objects came from archaeological locations or excavations not authorised by the Peruvian authorities. After the Inspectorate was notified about several objects being offered to an auction house, it began an investigation which revealed that the objects had been acquired in the 1970s by the father of the current owner. Following Peru's request and the Inspectorate's investigation, the owner voluntarily handed over the objects so that they can once again be part of the country's cultural heritage collection. During the handover ceremony, the Peruvian authorities expressed their appreciation for the return of these cultural objects, which will be publicly exhibited once they are back in Peru.
Pottery and textiles
The collection of objects being returned to Peru contains a diverse range of cultural objects. The 28 objects come from various pre-Columbian cultures, such as the Chimú, Chancay, Moche, Wari and Vicús, and date from between 200 BCE to 1,500 CE. The collection consists mainly of pottery pieces, including decorative jugs and figurines in the form of humans and animals. A number of colourful decorative textile fragments were also returned, as well as a collection of seeds.
Peruvian cultural heritage
Peru has an extraordinarily rich cultural heritage. One famous example is Machu Picchu, an Incan city that was never discovered by the Spanish, and has thus been preserved in its original state. Machu Picchu is now the largest tourist and archaeological attraction in Peru. The ruins are situated on a 2,500 metre-high mountain ridge, above the valley of a sacred river. Many cultural objects from this and other pre-Columbian cultures were plundered and illegally exported for sale. To protect this valuable heritage the International Council of Museums red lists database drew up a list of cultural heritage from Peru that may not be traded.
1970 UNESCO Convention
The return of this collection to Peru was carried out in the spirit of the UNESCO Convention on the Means of Prohibiting and Preventing the Illicit Import, Export and Transfer of Ownership of Cultural Property. The Netherlands has been a party to this convention since 17 October 2009. Under its provisions the State Parties must offer each other assistance when illegally exported cultural property is discovered, and must take appropriate steps to return such cultural property. In this case the Inspectorate investigated the origin of the items concerned and supervised the subsequent voluntary return process.